Posted by Matthew Loop | 36 Comments
This blog post is going to clear-up a common misconception that's circulating in regards to chiropractic social media marketing. One of the main myths that's floated around the profession is that this type of online marketing can only be used effectively on a national and international level by the "gurus."
Some would argue that for local practice marketing, it's mostly just a bunch of hype and produces little return in the form of new business. Now, whether those making this claim are qualified to speak on this topic is a completely different story for another time, but nonetheless I feel this is something that should be addressed.
Here's the real deal from someone that's been totally immersed in the social media trenches since early 2006 and has consulted privately for small and large companies worldwide. I've been fortunate to train thousands of chiropractors and professionals from all different walks concerning strategic, geo-targeted internet-based marketing.

Consistently, I'm booked to speak and share the newest social marketing methods at high-level seminars and live events. FYI… you can find an entire library of free instructional video content on my YouTube channel DCincome.
My first experience with social media was with Myspace originally. Yeah, it was fun to BS back and forth with friends, post images, videos, and other types of media but there were other things that drew me to this potential New Patient powerhouse. I began to observe how insanely easy it was to meet people on there.
Individuals seemed very relaxed and the guard was completely down. It was a totally dissimilar experience than going to business luncheons and meeting other small business owners or just interacting at health fair screenings. The communication dynamic was totally different on Myspace and Facebook yet these were real people.
The aha moment was when I was on Wikipedia one day looking at the many different social networks and their membership volumes and studying the viral growth. I realized social networks were for "social" people… imagine that!

Regular folks go on there to interact with friends and to …. (drum roll please)… MEET NEW PEOPLE. I felt like an idiot at first for not connecting the dots and I knew I had only tapped into a fraction of what was there.
I immediately began to surf the groups section on Myspace and noticed that I could connect and meet like-minded people that had the EXACT same interests as I did. At that point in my life, I really began to study and saturate my mind with all things personal growth and development.
My results in life weren't what I deserved and I felt compelled to find ways to improve myself so I could grow in all areas. I knew it was absolutely essential to connect with others that were on a similar path with a certain mindset. That's what I did through social networks initially.
You wouldn't believe some of the connections I established and where it's propelled me. That's also a topic for a different blog post. Continuing though, when I realized that networking online had many of the same benefits as networking offline (a la at the Chamber of Commerce), I began to dig around into the Myspace search and browse friends tab.
I pulled up a couple screenshots so you could see what we're dealing with. Notice, the search below was done with my practice zipcode within a 5 mile radius.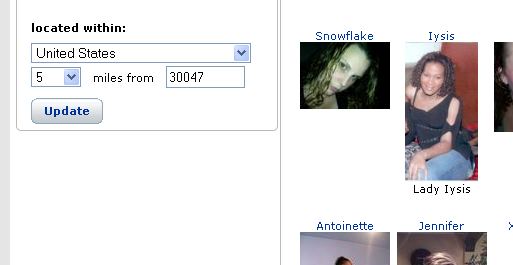 If you observe below, look how many people the search pulled-back within a 5 mile radius of females between the ages of 30-34. The numbers show a staggering 1,967 individuals that I could potentially meet and connect with in my local area just from a small age bracket!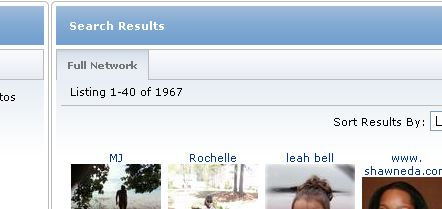 Imagine this…. What if you sent 20-30 friend requests per day to this list accompanied by a warm introductory message? Do you think you might meet and connect with members of your community at an accelerate rate? Of course you would!
Try meeting 30 each and every day offline and see if you can keep it up day-in and day out.
This "friend adding" can be accomplished in  a few short minutes and the benefits, exposure, and traffic can be incredible. All social networks (including Facebook) have these search / browse functions or something similar.
Every day, I would send friend requests to lists like this with a friendly message attached. I found that between 30-35% of those individuals would accept my friend request WITHOUT even knowing me before.
They saw my profile and I appeared as someone who was interesting that had value to contribute to their lives to they accepted my friend request, subsequently opening the lines for further communication and trust building.
Doing this daily built up a massive local network I could communicate with on a regular basis and brand myself as the community health expert and the "go-to" chiropractor. I always distributed information that I knew would better someone's life from a health perspective.

Then, down the road, I began to distribute other types of media like video to my friends list. This allowed me to touch my followers / friends with my voice and personal appearance.

Those who watched my videos felt like they knew me before ever setting foot in my office.
Soon after, I began to take advantage of the fact that Google was indexing videos and other types of chiropractic social media on it's search results extremely well. You can see below for a glimpse of my results when someone searches Lilburn (my city) chiropractor.
What would you think if you searched that term on Google and observed that 7 out of 10 listings on the first page were from a single chiropractor? Talk about building social proof and credibility fast! Not only were local internet surfers seeing me on the social networks, they were seeing me blanket the search engines like crazy.
People couldn't go anywhere online without running into me. That's a true systematic chiropractic marketing strategy in action!
When it comes down to it, I could go through many more examples of how social media marketing can benefit chiropractors and local business professionals.
If you're observing the trends and understand that more people are turning to the internet daily for solutions to their problems, you should know how important positioning in this fashion is this year. If you somehow think the internet is a fad and that individuals in your local area are not searching online then it's your choice to remain in denial.
This should give you some greater insight as to why you absolutely should be utilizing social networks and other forms of online marketing to exponentially build exposure in order to become a trusted pillar in your community.
Leave a comment below and let me know how befriending people on social networks like Facebook, Myspace, and LinkedIn have helped your chiropractic practice! Social media marketing for chiropractors has unquestionably arrived…
–
Did you like this post? If so, click the Facebook "like" button below and share it with your friends!
Related Blog Posts:
Local Facebook Fan Page Marketing Traffic Strategies
The 1 Star Review That's COSTING You Tens of Thousands
Why Content is NOT King (and what really is)